Advent House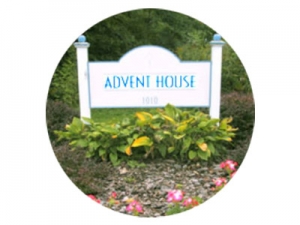 Advent House is an outreach ministry of Perinton Ecumenical Ministries, Inc., a corporation of thirteen churches in Perinton. We are a non-profit comfort care home that provides an alternative living arrangement to the terminally ill when they can no longer be cared for in their own homes. Loving care is not only provided to them, but to their families and friends as well. We also make available bereavement services to the families of our Residents for at least thirteen months after their loved one has died.
There are no fees to our Residents and we receive no insurance reimbursement of any kind. While volunteers are indeed "the Heart of the Home", we could not function without the support of our community through donations of materials, finances, time, prayers and participation in and support of our fundraisers. We are always accessible to our community as a resource for information or support and welcome your calls or visits.
Sweet Charity Resale Boutique & Shop
650 Whitney Road, Fairport, NY 14450
(585) 364-0317   Email at: sweetcharityfairport@gmail.com
Proceeds from Sweet Charity Resale Boutique & Shop will provide consistent, year-round income for Advent House and allow the Advent House to remain a calm and comforting place for our residents and their families and friends.
Sweet Charity replaces the annual Garage Sale and your donations of requested items in the very best of condition are the key to this mission! Please refer to the Donation Guidelines to guide your generosity! We hope you will like us on Facebook, Sweet Charity Fairport, and sign up for our email list here.
DONATIONS ACCEPTED at STORE LOCATION on Wednesday, Thursday, Friday and Saturday 10am-3pm
Address:
1010 Moseley Rd, Fairport, NY 14450
Board Member(s):
Glenda Hastings
Laurie Eisele
Ray Wager
Vicki Deady